Guess what I've been working on for the last few days, Remember how trying to color SoR2 Shiva was practically impossible because of all the freaking Black, Well I've fixed him

Before-------&-------After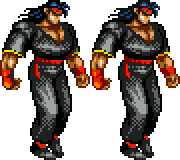 I took the liberty of changing a few other pixels too, no more bark red pixels on the sleeves, the red of the belt now meets the edge of the sprites, Removed the black shading off of the gloves and arms (Because Black outfit), slightly changed the colors of the Guns when Shiva holds them (Because...guns are grey...like most of the palette), slightly changed the color of the black line that follow the jaw, eyebrows and mouth and most importantly separated the Black hair from the Black Gi. I also took the liberty or organizing the Color Palette to be easier to customise.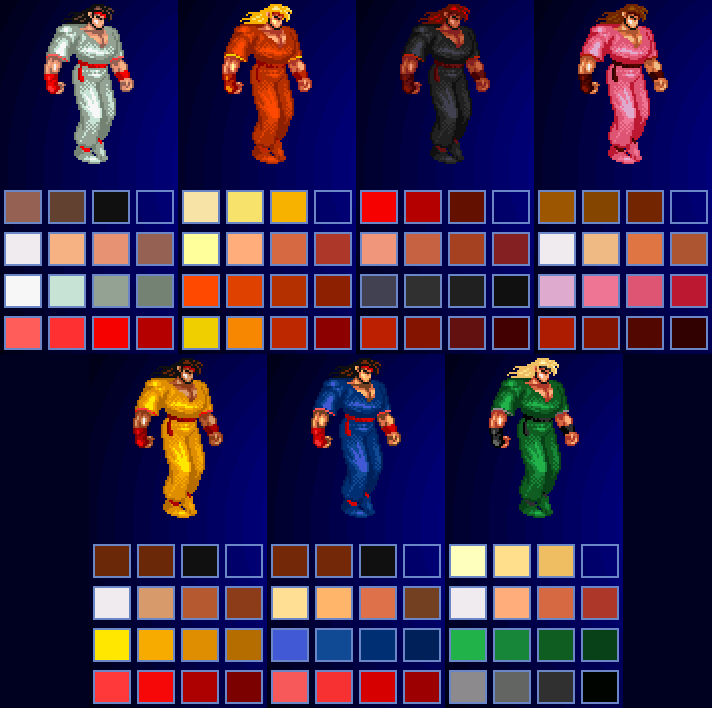 1st row is hair (4th color unused...for now)
2nd row is skin (and only skin now)
3rd row is the outfit (all dem shades of grey)
4th row is the Headband, Belt, Socks and Gloves (the first 3 colors are also the flames of your special attacks)
All are organised from lightest to darkest.
To top all this off there are also 2 versions 2 choose from, 1 has the flames effected by the first 3 colors of the 4th row, and another where the flames completely separate and therefore cannot be changed (Plus I decided to change the dirt that follows your feet when you run to flames too...because why not)
Download link
Code:

https://www.mediafire.com/?e5bawuc8d07ax59
Nice~! Playable version or also enemy version?
_________________
Withering Surface Entertainment presents: H.U.N.T.E.R. with its DLC Stories: Subway Mayhem & A Cold Quest for Peace. Adam's Story (main designer), Rushing Beat Remake, Final Fight CD Mini-mod(e), Double Dragon II The Revenge Megamix.

Don Vecta

Moderator




Posts

: 1518


Join date

: 2013-01-10



Don Vecta wrote:Nice~! Playable version or also enemy version?
Just the playable version, though i can't imagine it'd be too difficult to use the assets from this to make a version for the enemy. I'll have a crack at at it later.
Great work!!! You can do a sor3 version too? Thanks

Thiago Shiva

Newbie




Posts

: 2


Join date

: 2014-07-07



Thiago Shiva wrote:Great work!!! You can do a sor3 version too? Thanks
I might do, but the Streets of Rage 3 characters seem way more complicated so no promises.

Similar topics
---
Permissions in this forum:
You
cannot
reply to topics in this forum