ANNOUNCEMENT:
Streets of rage crimson is going to be one of my first times making a official mod. I'm just starting on the first stage. This is a screenshot of the first scene: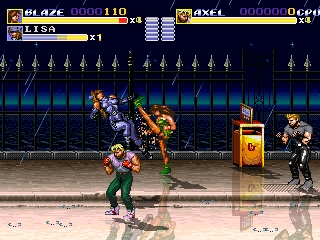 In this mod, I'm going to do some experiments with the collision.
I'm going to use a lot of music from fighting games. Here is an example of the type of music I'm going to use:
I will update this topic the more I develop it. I will be back with more info on the mod soon.
10/25/2016
I got some more progress on this. I am going to split the game into 4 routes, and 2 characters are assigned to each one (Once the mod is released, I recommend playing as the assigned characters that take the route for the full affect of the story). Rudra and Elle get dropped off on the rooftops via Murphy's helecopter, and then Murphy takes Skate and Zan to a lake based on Miramar lake. Skate and Zan get dropped off on the dock part of the lake. Blaze and Adam explore the city streets, and Axel and Max explore the sewers, and then experience some ridiculous drama from Ash (There will be lots of laughs!). At the end of the game, the characters reach Mr.X's base no matter what route you chose, they meet up at Mr.X's office and fight him to the death. At the sewers, the water actually overlaps you (Not in a sloppy way). I figured out how the do this when I went into sormaker and investigated Caj's survival mode mod and figured out how to do that. Thanks Caj.
10/26/2016
I am getting some awesome ideas for the sewer route. The game always warn's you when your about to fight a boss or sub boss from a cameo or event before the fight. I need some help on this mod. I have an idea that on Rudra and Elle's route they stumble upon a entrance to a building. Tell me which sprites I should use for the inside of the building. I will use the best idea and modify it a little. I will not be using the office area from sailor moon pretty soldier for the inside because I already used 1 of those stages for the stage I revealed on the screenshot, though I will use more sprites from that game. I also need reccomendations after Skate and Zan head up to the streets away from the lake. I also need reccomendations for Blaze & Adam's route too, but I don't need help on the sewer stage right now, and I also already have plans for the final part of the game.
Update: I know where Skate and Zan's route may be going, I am going to use Rushing Beat's bus stop stage as a park stage. And also, I have heard that some mods contain the custom names for the enemies.can you put the data for your custom enemy names in a file, and then put it in the data folder and be okay, or do you just list them and put them in the game's folder for another person to copy?
Notification:
I am going to use Karma's music box for this mod. Thanks Karma.
10/29/ 2016
I figured put what to use in the inside of the building the protagonists find in Rudra and Elle's scenario. I already started stage 2 but I still need to finish stage 1 and I have only 5 scene's left.
11/15/16
Since I finished stage2b, I ran out of ideas. We may not hear some progress on this mod for a while.
11/23/2016
I have some more idea's. I got to stage 2e.
Last edited by Doomerzan on Wed Nov 23, 2016 11:15 pm; edited 11 times in total (Reason for editing : Update)

Doomerzan

Galsia




Posts

: 27


Join date

: 2016-09-01



Cool, best lucks with this.
_________________
Withering Surface Entertainment presents: H.U.N.T.E.R. with its DLC Stories: Subway Mayhem & A Cold Quest for Peace. Adam's Story (main designer), Rushing Beat Remake, Final Fight CD Mini-mod(e), Double Dragon II The Revenge Megamix.

Don Vecta

Moderator




Posts

: 1544


Join date

: 2013-01-10



It's cancelled. I deleted it and lost all my files. But I am going to replace it with a even more interesting project
(Which I'm one scene away from completing the second stage!)
(

my avatar)

Doomerzan

Galsia




Posts

: 27


Join date

: 2016-09-01




---
Permissions in this forum:
You
cannot
reply to topics in this forum